THE 5 BEST COACH GIFT IDEAS
 Gift-giving is a gesture of appreciation and gratitude, and it's essential to show our coaches how much we value their hard work and dedication to our team. Whether you need a gift for a football coach, basketball coach, baseball coach, or athletic trainer, a small appreciation gift will certainly make your coach's day. Coming up with the perfect coach gift ideas can be challenging, but with these five suggestions, you can give your beloved coach a gift they'll always cherish.
5. Signed Team Picture for Sports Coach
One of the most popular and classic coach gifts is a signed team photo for the sports coach. A picture speaks a thousand words, and a signed photo of the whole team is a thoughtful and heartwarming way to commemorate the season. You can make it more personalized by using a writable matte material and having each member of the team sign a nice message to show their appreciation. This is a perfect way to touch your coach's heart and show them how much you value their hard work and dedication.
4. Coaching Binder Kit
Another great idea is the coaching binder kit. This kit is an excellent gift for a sports coach to stay organized for the next season. It comes with custom pages for the team's schedule, roster, and contact list, allowing the coach to focus on the coaching rather than worrying about important documents. This gift can be very useful and will ensure that your coach is prepared for the next season.
3. Tickets to a Sporting Event
If your favorite coach is a big fan of a local team, tickets to a sporting event could be a perfect gift idea. It is quick, easy, and, with everyone chipping in, also inexpensive. The gift will show your coach that you care and appreciate their hard work, and they will appreciate the fun outing.
2. Cooler
Another useful and practical gift is a cooler. This gift works well for all of your coach's sporting activities, but they can also use it in all aspects of life. Whether they take it camping or on a picnic, your coach will always have a sweet memory from that season. It is even better if you can get the cooler in the team colors or embroider their name on it to make it more personalized.
1. Customized Jewelry for Beloved Coach
Finally, customized jewelry for the beloved coach is a sweet and sentimental gift idea. SportyBella offers a wide range of coach-themed jewelry. We will mention just a few but make sure to check out all the categories. A customized bracelet with engraved coach's or team name is a thoughtful way to remember the season. You can make it more special by getting matching bracelets for the whole team. You can also choose the keychain with an inspirational quote so your coach knows how much you care. These are unique gift ideas that your coach will cherish forever.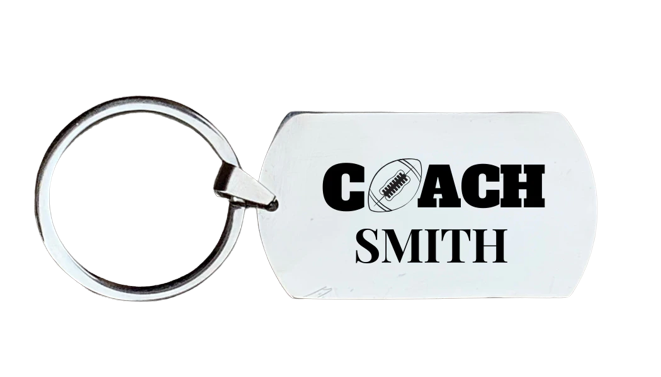 More coach gifts ideas
Other gift ideas for coaches include a personalized coach whistle, a coach t-shirt with the team logo, coaches' clipboard, solid wood picture frames for team photos, or personalized gifts for the coach's office. Whatever gift you choose, make sure that it makes your coach feel appreciated and valued. After all, a good coach makes a significant impact on their players, and they deserve the best gift on their day.
Gift-giving is an excellent way to show our appreciation and support for our sports coaches. Whether it's for a big game day or early morning practices, coaches play a significant role in keeping the team motivated and focused. The perfect gift for a coach is one that reflects their personality, interests, and hard work. It's important to remember that great coaches make a difference in the lives of their players, and a great coach deserves a great gift. So, get creative and choose a unique gift to show your coach how much you value their hard work and dedication.
If you need more ideas check out sportybella coach gifts collection and find the perfect piece of jewelry for your coach!